On 19th and 20th October 2017, Revelle Group organised a Renewable Energy Hard Talk in Baku, Azerbaijan on New Opportunities for Developing Renewable Energy.
The Hard Talk in Azerbaijan was organised by the United Nations Economic Commission for Europe(UNECE) together with the State Agency for Alternative and Renewable Energy Sources, within the scope of the "RE-Uptake" project realized by the German Energy Agency (dena) and supported by the Federal Ministry of Economic Affairs and Energy.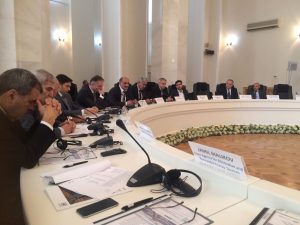 Renewable Energy Hard Talks is a concept developed by Revelle Group where the particular meetings are envisaged as high-level, high-engagement and high-impact events on the Renewable Energy Sector of the host countries with specific focus on increasing attractiveness for investors.  The meetings are coined as 'Hard Talks' as top-tier decision makers from the public and private sectors as well as civil society are called to meet around one table. The participants bring their unique perspective of what the problems are and through a sincere dialogue and demonstrable desire to face those problems to reach solutions that will in principle, be acceptable by all parties involved.
The multi-stakeholder exchange brought together over 40 representatives, including policy and decision-makers, project developers, investors, technology providers and NGOs as well as international donors and financial institutions.
Discussions highlighted the progress in Azerbaijan's renewable energy sector, and provided an opportunity to exchange perspectives on further development prospects, with a focus on the stimulation of foreign investment. Participants discussed and prioritised a set of legal, regulatory, technical and financial recommendations which could jumpstart investments in renewable energy and improve project bankability, streamlining procedures and cost reduction in project development.
The case for the development of renewables was clear. Renewable energy will enhance long-term energy security and boost the national economy through increasing export revenues by saving natural gas and electricity energy in consumption.
Please read also the press release issued by the UNECE.