Energy sector reform projects bring great value to a country and have both short and long term benefits for society.  However the average citizen is hardly ever aware of these benefits, as the concepts and issues addressed in energy reform projects may be too complex for the 'person off the street' to understand.
Raising the awareness of the average citizen on sustainable energy as well as issues pertaining to energy sector reform became of importance in the last year for the INOGATE Technical Secretariat project. The aim was to ensure that citizens had a solid understanding of why energy reforms are a necessary process and how they are linked directly to their daily life in energy consumption.
With this in mind and as part of its work in the INOGATE Technical Secretariat project, Revelle created a series of 7 success stories, targeting ordinary citizens, with no background in energy, in both the EU and the Partner Countries. The stories illustrate the successful areas of interventions undertaken by INOGATE explained in simple, non-technical language.
The success stories covered subjects the following areas:
1. Saving energy at home - a 'how to' centre for sustainable energy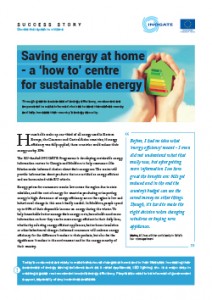 Through greater awareness of energy efficiency, consumers are empowered to make informed choices to save themselves money and help increase their country's energy security.
2. Phasing out subsides in energy tariffs: why it's necessary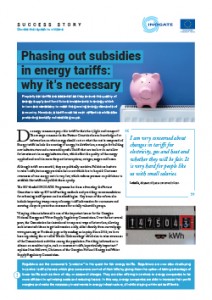 Properly set tariffs are essential as they ensure the quality of energy supply and fund future investments in energy which in turn are necessary to meet the growing energy demands of a country. However, a tariff must be cost-reflective while also protecting socially vulnerable groups.
3. Saving on your energy bills by making better buying choices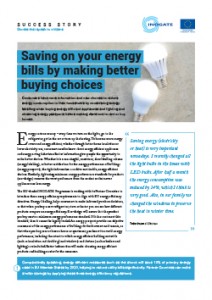 Consumers have more information and new choices to reduce energy consumption in their households by considering energy labelling when buying energy efficient appliances and lighting and obtaining energy passports before making decisions to rent or buy homes.
4. Investing in renewable energy and energy efficiency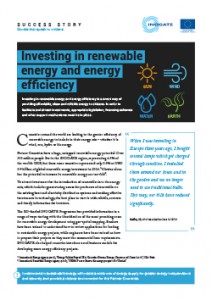 Investing in renewable energy and energy efficiency is a smart way of providing affordable, clean and reliable energy to citizens. In order to facilitate and attract investments, appropriate legislation, financing schemes and other support mechanisms must be in place.
5. Energy statistics you can trust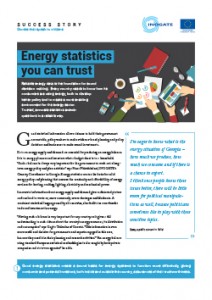 Reliable energy data is the foundation for sound decision-making. Every country needs to know how its consumers are using energy, both to develop better policy and to create a more enabling environment for the energy sector. Trusted, accurate statistics answer questions in a reliable way.
6. An end to electricity supply frustrations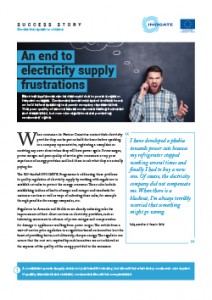 Electrical appliances can be destroyed due to power surges or frequent outages. Consumers sometimes spend endless hours on hold before speaking to a power company representative. This poor quality of service leaves consumers feeling frustrated and dissatisfied, but now new regulations are protecting consumers' rights.
7. Turning waste into energy
Countries all over the world are addressing their landfill problems by recycling their garbage and producing energy from waste to heat their homes and public buildings. Producing energy from collected landfill gas is one of best ways to reduce negative impacts of existing landfills on the environment and people living near it.